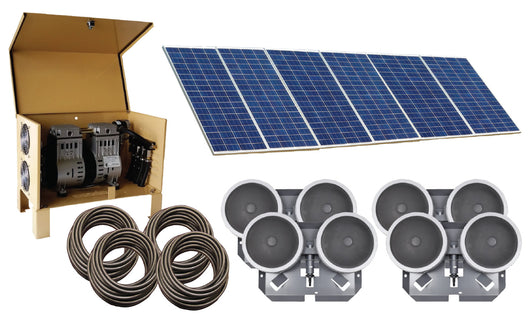 Deep Water Solar Aeration System, 4 Diffusers
Product Code: SASD34
Regular price $9,695.95 Sale
These Deep Water Solar Aeration Systems are designed for ponds up to 4 acres and 35 feet deep!  They utilize rocking piston compressors to deliver effective aeration to deeper water depths than other traditional solar systems. These direct drive systems operate during daylight hours and are designed to start earlier, run later and even operate on moderately cloudy days, giving you more operating time. The results are much more total cfm of air delivered per day than other non-battery systems currently on the market.
Warranty Info:
Fifteen years on panels
Five years on airline and diffusers
Three years on compressor. (Excludes wearable items; piston cup, valves, etc. Air filters must be cleaned or replaced every six months.)
Lifetime warranty against rust on aluminum cabinet
Each system includes:
High quality aluminum cabinet, in beige color, with two circulating fans
Oil-filled pressure gauge and pressure relief valve
Rocking piston compressor

High output solar panels
Pre-cut fabricated solar mounting racks for easier installation (purchase mounting poles locally)
Self weighted, self cleaning Air Diffusers (See quantity per system below.)
Self weighted airline (See quantity per system below.)

Contact Us for custom systems and shipping quotes.
The table below lists information, including quantity of different components included, for each system.
Item #

Max Pond

Size


Compressor


Size (HP)


# of Solar

Panels

# of

Diffusers

Feet of

Weighted Tubing

SASD12

Up to 1.5 acre

1/4
3
2
200
SASD23
Up to 2.5 acres
1/2
4
3
300
SASD34
Up to 4 acres
3/4
6
4
500
This product ships via Motor Freight. Please Contact Us for a shipping quote and to order.