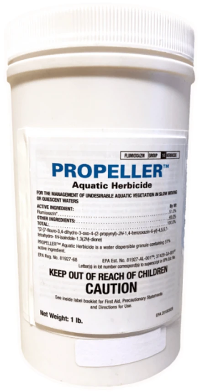 Propeller, 1 lb
Product Code: PRP1
Regular price $99.00 Sale

This product controls many species, but is ideally suited for treating Watermeal and Duckweed. It is a non-corrosive dry powder product that you mix with water to apply. The product breaks down rapidly in the water leaving no chemical trace. 5 day irrigation water restriction.
Dosage Rates: Application rates vary from about 6 to 12 ounces per acre for surface application and greater amounts for sub-surface treatments. See the Propeller Label instructions for details.
Shipping Restrictions: This product cannot be shipped to the following states: AK, CA, CT, ID, HI, ME, MA, NH, NJ, NY, RI, VT & WA
Pond Calculator Use to calculate the volume or area of your pond.