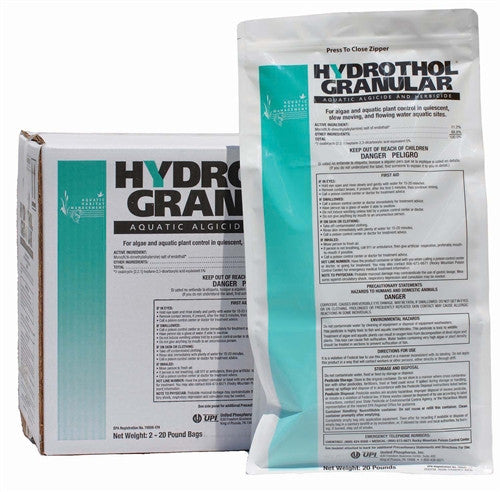 Hydrothol Granular, 20 lb bag
Product Code: HYD20
Regular price $132.00 Sale

This is a stronger version of Aquathol that also contains an algaecide. It is an effective environmentally friendly chemical that breaks down completely soon after application. Use to control pondweed species, naiad species, coontail and milfoil during spring, summer and late season when plants are resistant to other treatments. Great for spot treating!
Dosage Rates: Application rates vary from 27 to 136 pounds per acre-foot for weed control and 3 to 82 pounds per acre-foot for algae control. See the Hydrothol Granular Label instructions for details.
Shipping Restrictions: This product cannot be shipped to the following states: AK, CA, CT, ID, HI, ME, MA, NH, NJ, NY, RI, VT & WA
Pond Calculator Use to calculate the volume or area of your pond.
Product Restrictions Table
Check to see what kind of water use restrictions apply, if any, for this product.