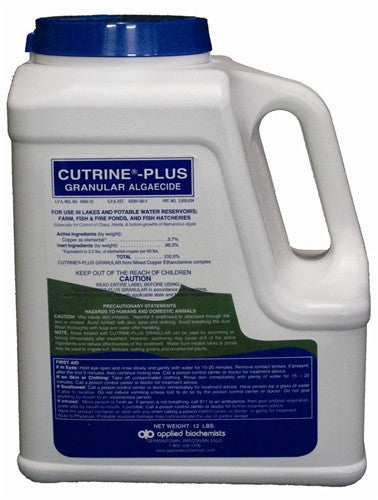 Cutrine Plus Granular, 12 lb.
Product Code: CPG1
Regular price $60.00 Sale

This granular form of Cutrine Plus is recommended for use against bottom growing algae. Works well on Chara. Great for spot treating around piers and beaches. Please note that Koi and Trout are very sensative to this product.
Dosage Rates: 60lbs per surface acre of water. See the Cutrine Granular Label instructions for details.
Shipping Restrictions: This product cannot be shipped to the following states: AK, CA, CT, ID, HI, ME, MA, NH, NJ, NY, RI, VT & WA
Pond Calculator Use to calculate the volume or area of your pond.
Product Restrictions Table
Check to see what kind of water use restrictions apply, if any, for this product.