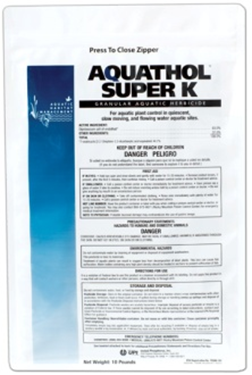 Aquathol Super K, 10 lb.
Product Code: AQU10
Regular price $385.00 Sale

Use this herbicide early in the growing season to control pondweed species, naiad species, coontail and milfoil. Aquathol works well for spot treating. Application rates vary. Slight water restrictions. 
Dosage Rates: Rates range from 2.2 to 17.6 pounds per acre-foot of water. See the Aquathol Super K Label instructions for details.
Shipping Restrictions: This product can only be shipped via UPS Ground, and it cannot be shipped to the following states: AK, CA, CT, ID, HI, ME, MA, NH, NJ, NY, RI, VT & WA
Pond Calculator Use to calculate the volume or area of your pond.
Product Restrictions Table
Check to see what kind of water use restrictions apply, if any, for this product.