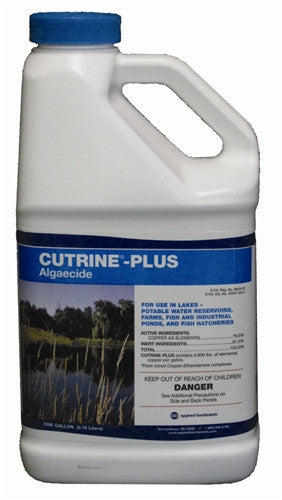 Cutrine Plus Liquid, 1 gal.
Product Code: CPL
Regular price $51.00 Sale

Our best selling algaecide! This chelated copper algaecide is much safer and remains active in the water column up to 15 times longer than copper sulfate! Copper sulfate should be avoided whenever possible because it settles out of the water column and into the bottom sediment within just a couple days. Use liquid Cutrine Plus to control surface or suspended algae. Please note that Koi and Trout are very sensitive to this product.
Dosage Rates: Usually 0.6-1.2gal per acre-foot when water temperatures are above 60F. See the Cutrine Liquid Label instructions for details. Reapply at first sign of regrowth - usually about once a month. Resistant strains of algae may require mixing in a Surfactant to achieve control. Very resistant strains may require mixing in a Surfactant and Reward Herbicide.
Shipping Restrictions: This product can only be shipped via UPS Ground, and cannot be shipped to the following states: AK, CA, CT, ID, HI, ME, MA, NH, NJ, NY, RI, VT & WA
Pond Calculator Use to calculate the volume or area of your pond.
Product Restrictions Table
Check to see what kind of water use restrictions apply, if any, for this product.