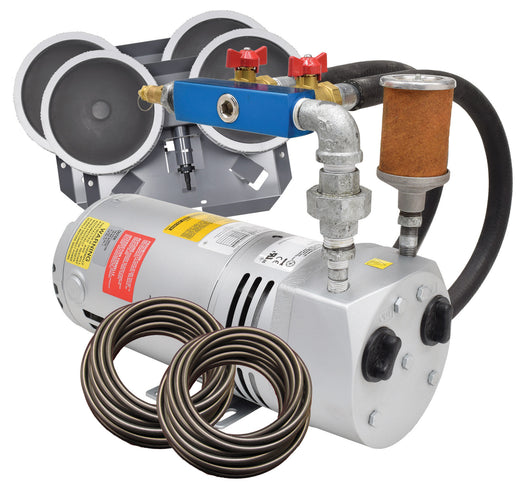 2 Diffuser Rotary Vane Air System
Product Code: PA50W
Regular price $1,849.99 $1,664.99 Sale

Rotary vane compressor systems are commonly used in shallow water aeration applications. These compressors are very durable and last for years as long as routine maintenance is performed. This system includes a 1/4 HP compressor, which is American made and carries a 1 year warranty, and 2 diffusers to cover more area. We generally recommend using Rotary Vane Compressors only when the water is about 12 feet deep or less, although they can be used up to 18 feet deep with short runs of airline. The system comes with complete installation, operation, and maintenance instructions, and can aerate ponds up to 2 acres in size (see table). 5 year warranty on airline and diffusers. Components of this system include:
1/4 HP Rotary Vane Compressor (#RV33)
2-valved air outlet with pressure relief (#VO2N)
200 feet of 1/2" Weighted Airline (#W12-100)
2ea Self Weighted Membrane Diffuser Assemblies (#QS2)
All necessary fittings
Complete installation, operation and maintenance instructions
Special Order Options
Contact Us
if you are interested in any of the following options:
Compressor available in 230 volt.
System can be changed to less expensive non-weighted airline (not recommended!). You need to tie a brick on every 6 feet to sink non-weighted airline, and it kinks if you are not careful.
System can be modified to ship without airline or diffusers.
Cabinets are available on THIS PAGE or you can contact us to purchase a system with the compressor and valve assembly installed into a cabinet.
Additional airline is available on THIS PAGE
Average Size Pond That This System Will Aerate
Please keep in mind that this table is very basic and describes sizing for average ponds. If your pond is high in nutrients and/or has a significant algae problem, you potentially need to divide the acreage described below by two. Also, if the pond is irregularly shaped or there are special circumstances, we recommend that you contact us for an Aeration Systems Recommendation and quote.
| Max Depth | Max Pond Size |
| --- | --- |
| 3-5 feet | 1/4 acre |
| 5-8 feet | 1/2 acre |
| 8-12 feet | 1 acre |
| 12-16 feet | 2 acre |
Pond Calculator Use to calculate the volume or area of your pond.