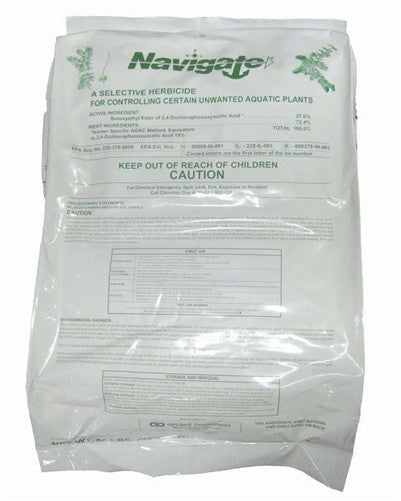 Navigate Granular, 50 lb.
Product Code: NV50
Regular price $318.00 Sale

Navigate Granular is a 2, 4-D based product that is very effective on Coontail and Milfoil. Can be used to kill Water Lilies if applied before blossoms appear. Its granular form makes it ideal for spot treating. Same active ingredient as the popular product called Aquacide at a better price. Slight water restrictions.
Navigate Granular Dosage Rates: Application rates vary from 100 to 200lbs per surface acre of water. Use lower rate for Eurasian Water Milfoil and higher rate for native Milfoil, Coontail and Water Lilies. See the Navigate Label instructions for details.
Shipping Restrictions: Navigate Granular cannot be shipped to the following states: AK, CA, CT, ID, HI, ME, MA, NH, NJ, NY, RI, VT & WA
Pond Calculator Use to calculate the volume or area of your pond.
Product Restrictions Table
Check to see what kind of water use restrictions apply, if any, for this product.