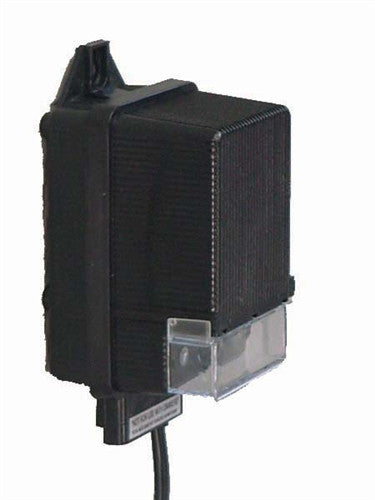 Transformer w/ Photo Eye, 100-watt
Product Code: EPT100
Regular price $119.99 $99.07 Sale

Forget having to adjust timers to keep your 12 volt lights coming on at dark. This transformer has a photo eye that automatically turns on at dusk and a timer that runs for four, six or eight hours before turning the lights off. Can also be set to run dusk to dawn or always on.
Transformers are epoxy filled and weatherproof for long life and have field replaceable fuse in case of overloading. Transformers are UL listed and have a 3 year warranty!
To size the transformer needed, add up the wattage of each light you are going to use and make sure the transformer is rated at or above that. For example, if you were going to use 4 each 20 watt lights, that adds up to 80 watts, so a 100 watt transformer would be a good choice.