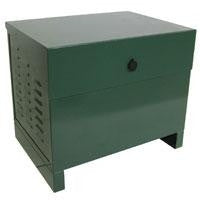 Standard Lockable Steel Cabinet
Product Code: SC22
Regular price $559.99 $503.99 Sale

This sturdy cabinet has a lot of great features in a smaller space!
Standard Cabinet
includes the following:
16-1/2" W x 22" L x 19" H - will hold all compressors up to RV100 or multiple smaller units
14 gauge galvanized steel with powder coat paint finish
Includes a compressor mounting base to keep compressor up off floor
Tapered lid - makes front wall shorter allowing easier access to compressor for service
Has six 1-1/4" knockouts for airlines and one knockout for incoming power
Stainless steel lock protects against vandalism
Optional fans recommended on any compressors operating in hot climates and on 1/2 HP and larger in all climates (fans included with Deluxe Cabinet)
Deluxe Cabinet: consists of standard cabinet above with cooling fan and electrical box installed. Electrical box has 1/2" conduit plumbed through floor for easy wiring. Both 115 and 230 volt units are available.
Soundproofing: Cabinets are now available with soundproofing for an additional charge. Contact Us for a quote and to order cabinets with soundproofing.