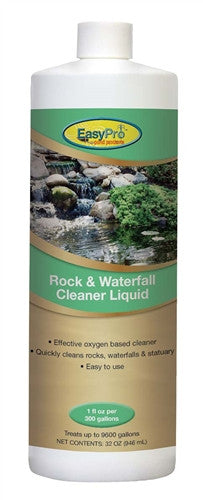 Liquid Rock & Waterfall Cleaner, 32 oz
Product Code: OXYL32
Regular price $17.99 $16.64 Sale

Use this liquid product for cleaning rocks and waterfalls.
Commercial strength oxy-based cleaning
Quickly and effectively clean rocks, waterfalls, water features, fountains, statues, plant pots, etc.
Lifts debris to pond surface where it can be removed by net or skimmer
Simply pour into area with most active water movement for best mixing
Safe for use with fish, birds, pets and wildlife
Dosage Rates: Apply 1 fluid ounce per 300 gallons of water once a week. Application can be repeated every 3 days until desired results are achieved. Read and follow all label instructions before use.
Shipping Restrictions: This product can only be shipped via UPS Ground.
Pond Calculator Use to calculate the volume or area of your pond.