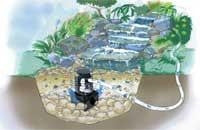 Just-A-Falls X-Large Kit
Product Code: JAF4
Regular price $4,901.99 $4,411.79 Sale
Do you want the soothing sounds and beauty of a stream or waterfall without the potential liability of a pond? If so, the Just-A-Falls kits are for you!
These kits includes everything you need to build a beautiful waterfall and stream that empties into a gravel retention basin that has no standing water! All components are made of high-quality materials that will provide you with years of trouble free enjoyment. This kit includes the following materials:
20x50 foot Liner (enough for a 10x12x3 foot deep reservoir with 30 feet left over for a stream)
2 each 10x50 foot Pond Liner Underlayment
82" Waterfall Spillway
#JAFV - Large Pond Vault
#TB12000 - 12,000 GPH High Volume Pump
3" Check Valve Assembly
50 feet of 3" Black PVC Flex Pipe
Installation Kit (includes Black Waterfall Foam, Silicone Sealant, PVC Primer and Glue, and Liner Patch)
For details on this kit, please see the
Just-A-Falls Installation Instructions PDF
. It will provide you with everything you need to know about the kit and how to install it!