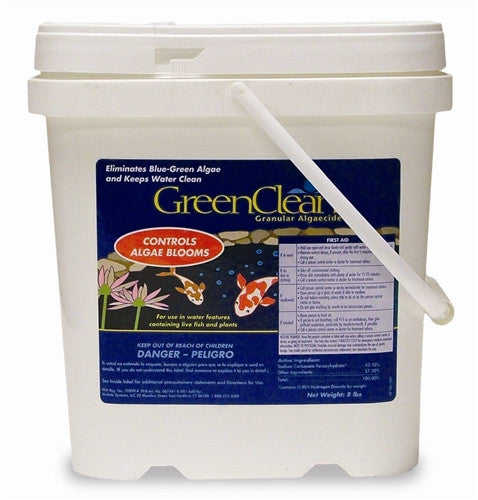 GreenClean Algaecide, 8 lb.
Product Code: GC8
Regular price $50.00 Sale

This popular product is designed to treat algae in both small garden ponds and large earth ponds. GreenClean works through oxidation, which provides immediate control of algae and complete biodegradation. There is no residual heavy metal from the product, which makes it ideal with copper sensitive species like Koi and Trout. Completely non-hazardous to fish & plants, this product is registered with the EPA and is Organic certified by Organic Materials Review Institute.
Dosage Rates: Rates vary - see product package for detailed instructions. In Koi Ponds & Water Gardens, apply a maximum of 1 cup (1/2 pound) per 1,000 gallons initially, then 1/2 cup (1/4 pound) once a week for 4 weeks and then 1/2 cup (1/4 pound) once a month as a maintenance dose thereafter. In some cases, up to 5 times less product can be used.
Pond Calculator Use to calculate the volume or area of your pond.