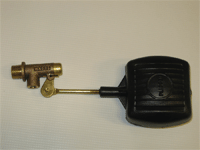 Economy Water Fill Valve, 1/2"
Product Code: WFS37
Regular price $57.00 Sale

Avoid the hassle of adding water to your pond with the economy brass 1/2" Water Fill Valve. Water is gradually lost due to evaporation and tiny leaks, and with the water fill valve mounted in your skimmer or Water Fill Box, the pond will remain filled at all times.
Flow rate is 11 GPM (660 GPH) @ 15 PSI, 16 GPM (960 GPH) @ 35 PSI & 19 GPM (1,140 GPH) @ 55 PSI. A Water Fill Box with overflow is available for ponds without skimmers (Item # WFB). The 1/2" valve measures 8" long.