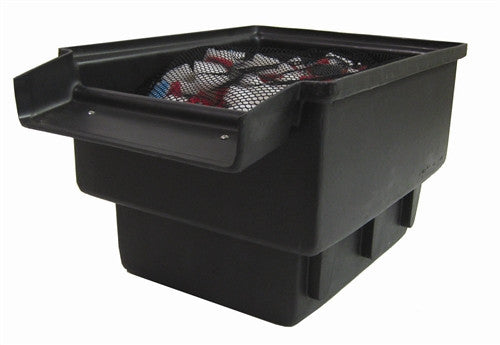 Eco-Series Prelude Filter, 13" opening
Product Code: WF10E
Regular price $129.99 $116.99 Sale

This patented waterfall filter box is the easiest to install of any similar style filters on the market today.
Bulkhead fitting pre-installed for you
Patented Spliner Lock system attaches liner securely and easily - no bolts, no silicone - no puncturing the liner
Filter comes complete with filter media already installed in media bags
Other features include:
13" waterfall opening
Unit measures 20" x 17" x 14" tall
Filters ponds up to 1000 gallons
Maximum flow rate 30 gpm
1-1/4" inlet fitting pre-installed
Includes one filter pad and one bag of media
Filter has an optional filter lid that covers filter providing easy way to hide from view. It is molded with pockets allowing bark or plants to be used for a natural look and perforated ring in lid can be cut out allowing pots to touch water inside.
Other Eco-Series Waterfall Filters Available! 50, 70 and 150 max GPM Eco-Series Waterfall Filters are also available, but not carried in our inventory. Please email us at info@keystonehatcheries.com for pricing and availability if you are interested.