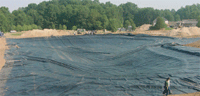 EasyWeave Pond Liner, 30 mil Reinforced Woven Polyethylene
Product Code: WCP30
Regular price $0.61 $0.54 Sale
This is a super tough material that is engineered to offer great strength in a light weight liner material. EasyWeave Liners are UV stabilized to offer years of worry free protection against the damaging rays of the sun. Unlike regular multi-layer liners that just lay one membrane on top of the other, EasyWeave Liners are woven together creating incredible strength.
Because of its light weight and strength, EasyWeave can be manufactured in 1 piece sizes up to 75,000 square feet! Options are available for seaming panels together in the field for very large jobs. Please call to discuss. Liners ship via Motor Freight. 10 year warranty when exposed to sun or 20 year warranty when completely buried or underwater!
Pricing is as follows for 30 mil:
1000-10,000 square feet = $0.54/square foot
10,001-20,000 square feet = $0.52/square foot
20,001 + square feet = $0.49/square foot
Email us at info@keystonehatcheries.com if you would like a quote on a particular project.