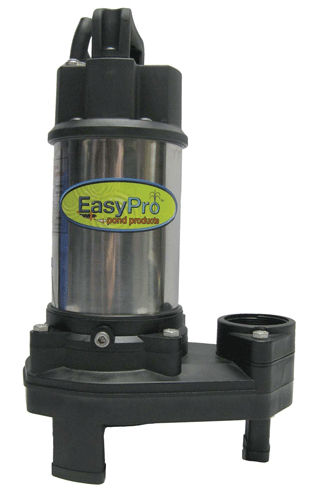 EasyPro Submersible Pump, 4100 GPH
Product Code: TH250
Regular price $589.99 $530.99 Sale

These energy efficient, long lasting stainless steel pumps are great for waterfalls and streams. Features include:
The rugged motor is designed for long life, continuous duty operation. Motor housing is corrosion-resistant stainless steel
Low Maintenance - the pump casing is made from abrasion-resistant, fiber reinforced plastic for maximum life
Vortex design prevents clogging
Built-in overload and overheat motor protection
2" female threaded outlet
20 foot power cord. 50 and 100 foot cords available via special order
230 volt available via special order
#THPS bottom screen available to further protect from clogging
2 year warranty!
The table below shows gallons per minute (GPM) of water flow at different feet of head for the 4 models of TH series EasyPro Submersible Pumps.  Multiply GPM x 60 to get GPH:
Item #

Max

GPH

Amps

@ 115V

HP
0ft
5ft
10ft
15ft
20ft
25ft
TH150
3100
2.6-3.1
1/4
52
46
35
23
10
-
TH250
4100
3.0-4.2
1/3
68
65
54
43
30
15
TH400
5100
3.7-6.0
1/2
85
83
73
60
45
34
TH750
6000
6.0-9.9
1
100
98
91
83
73
62