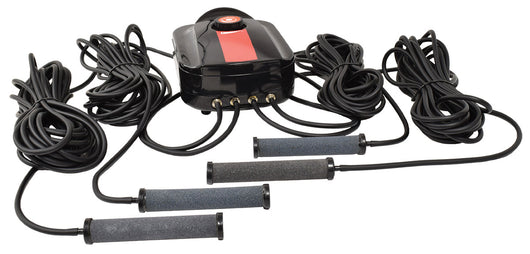 Compact Aeration System - Four Diffusers - Ponds up to 3,500 gallons
Product Code: CAS4
Regular price $124.99 $106.24 Sale

Ensure adequate oxygen levels and circulation during hot summer months and de-icing capability during freezing months with the CAS Pond Aeration Systems. 3 different kits are available with 1 to 4 diffusers for ponds up to 3,500 gallons. These systems feature quiet, energy efficient diaphragm compressors that can be operated outside, but they must be protected and housed from the elements.  Limited 2 year warranty.  Replacement diaphragm kits are available.

All kits include a compressor with 6' power cord, rubber membrane diffuser(s), connectors, vinyl tubing, air diffuser, check valve and installation and maintenance instructions.
Item #
Pond Size (Gallons)*

Number of  Diffusers

Length of Tubing Included
Air Flow (CFM)**
Max Depth
Watts

Est.***

Montly

Cost of Operation

CAS1
Up to 1K

One
25 feet
0.14
4 feet
2.7
$0.18
CAS2
Up to 2K
Two
2x 25 feet

2x 0.15

4 feet
4
$0.26
CAS4
Up to 3.5K
Four
4x 25 feet

4x 0.15

4 feet
8.2
$0.54
* Size pond that these systems will aerate depends on depth, fish load, filtration capacity and if it is for winter or summer aeration. Contact Keystone Hatcheries for sizing recommendations.
**Airflow rates given are max flow. Rate will decrease with depth.
***Based on 24/7 operation at $.09 per kWh. Actual cost will vary with operating conditions and local electrical rates