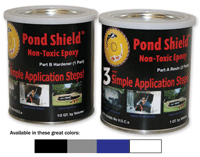 Clear Pond Shield Paint, 1.5 qt. Kit
Product Code: PAQC
Regular price $97.49 $89.00 Sale
POND SHIELD - Ideal for sealing concrete ponds, pools and fountains!
Pond Shield is a nontoxic two part epoxy sealer designed specifically for sealing concrete, steel, wood, fiberglass, etc. with a thick, durable coating. Have you ever tried installing a flat piece of liner into a round or square pool? It is impossible to do without creating wrinkles and folds in the liner. With Pond Shield you get all the water proofing of a liner without the wrinkles!
Easy To Apply - No special equipment needed, just brush or roll on!
Flexible - Pond Shield remains flexible from 78 to 140F
Durable - Unlike other sealers, Pond Shield bonds to the substrate rather than just covering it. This leads to longer life with less repairs and maintenance.
Beautiful - Provides a smooth, hard finish with no wrinkles or folds. Also makes surface easier to clean in the future
Each 1.5 quart kit will cover approximately 60 square feet of surface area. Available in Black, Gray, Competition Blue or Clear. Email us at info@keystonehatcheries.com if you would like to receive a copy of the instructions prior to ordering. Black is usually kept in stock, but other colors dropship from California and a minimum order of 2 kits is required.