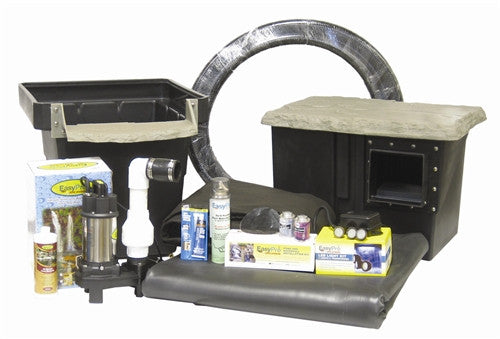 8x11' Small Pond Kit
Product Code: ES811FB
Regular price $1,796.09 $1,616.48 Sale

This kit includes everything you need to build a beautiful Koi Pond or Water Garden, and is shipped via UPS in two boxes! All components are made of high-quality materials that will provide you with years of trouble free enjoyment. Each kit it includes:
45 mil EPDM Liner
Pond Liner Underlayment
Pond Skimmer with filter brushes
AquaFalls Biofilter/Waterfall Base
High Efficiency Pump
Check Valve Assembly
25 feet of 1-1/2" Black PVC Flex Pipe
Bacteria
Waterfall Installation Kit - includes PVC glue, primer, silicone, liner patch and 1 can of black foam
3 Mini LED Light Kit with Transformer
See table below for specific information. Pond sizes are based on a 2 foot depth with no extra liner on the edges:
| Item # | Pond Size | Liner Size | Approx. Pond Gal. | Pump Included | Skimmer Included | AquaFalls Included |
| --- | --- | --- | --- | --- | --- | --- |
| ES811FB | 8x11 | 12x15 | 1000 | EP2200 | PSMFB | AS |
Enter Pump, Skimmer or AquaFalls # into our search engine for more information on each component.
See this Pond Kit Installation PDF for details on what is involved with installing a pond kit.