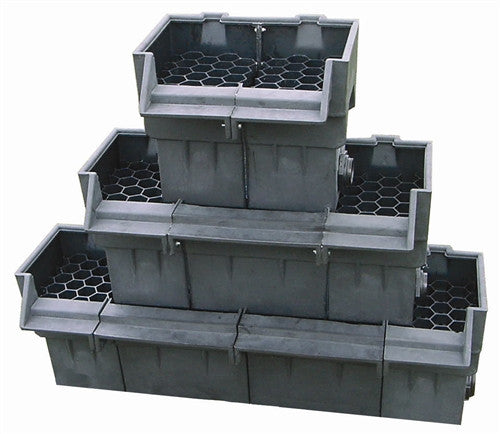 34" Spillway Assembled, 2" inlet
Product Code: EWS34
Regular price $409.99 $368.99 Sale

Photo shows 3 units. Top unit is simply the left/right end pieces put together. Middle unit is left/right end pieces with one 16" extension module. Bottom unit is left/right end pieces with two 16" extension modules.
This is the only expandable waterfall spillway on the market! Ideal when filtration is not necessary, this Waterfall Spillway is much easier to install than an AquaFalls, and since it is expandable, you can build as wide of a waterfall as you would like!
The Complete EasyPro Waterfall Spillways consists of a left and right end piece, which when bolted to each other form an 18" spillway. The 34" spillway includes 1 extension module and the 50" spillway has 2. For larger spillways, you can put 16" Extension Modules between the left & right end pieces to form as large of a waterfall spillway as you'd like. A bulkhead fitting is included with each end piece so that you can plum in water from either end. A plug is also included so that you can close off the end that is not in use.
Waterfall Spillways have a plastic grating just below the water level, which not only keeps the walls from bowing when buried in the ground, but also allows you to stack 3-4 inches of rock to hide the spillway. Also, Waterfall Spillways are designed to sit inside the liner, eliminating any concerns of leaking. The liner simply goes under the spillway and up the back side. If you use a skimmer, the bulkhead fitting secures liner to tub where the hose enters the spillway, or if you use a pond vault, the pipe can be run through the pond on top of the liner.
This item is a 34" Assembled Waterfall Spillway with a 2" bulkhead.