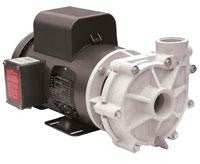 11000gph External High Head pump, 8.6amps/230v
Product Code: EX11000
Regular price $1,299.99 $1,104.99 Sale

The perfect choice for tall waterfalls, fountain nozzles and long or restrictive plumbing applications! EX8500 and EX11000 have dual voltage motors that are shipped wired for 230 volt but can be easily changed to 115 volt. EX112000 and EX132000 are 230 volt only. Features include:
Continuous duty, weatherproof motors - can be used outdoors without additional protection from weather
Not self-priming - use in flooded suction applications or with check valve on suction line to maintain prime
3 year warranty!
8 foot power cord
Table shows Gallons Per Minute (GPM) at different feet of head. Multiply by 60 for GPH.
Item #

Amps @

230 volt

Max

GPH

Inlet/

Outlet

20ft
30ft
40ft
50ft
60ft
70ft
EX8500
5.4
8500
1-1/2"
116
100
80
51
-
-
EX11000
8.6
11000
1-1/2"
-
143
125
106
80
33
EX11200
9.6
11200
2"
-
-
138
122
102
75
EX13200
11.5
13200
2"
-
-
175
150
141
117