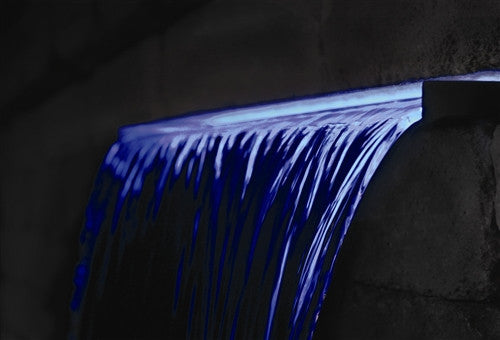 Vianti Falls - 23" Spillway Kit (Blue LED Light Included)
Product Code: HB23KB
Regular price $1,111.49 $1,000.34 Sale

This terrific Vianti Falls Kit provides everything you need to build a simple yet beautiful waterfall using the block wall of your choice! Kit includes a half basin, stainless spillway, mag drive pump with three year warranty, PVC flex pipe, fittings and auto fill valve. Available with white or blue LED light strips!
Kits Include:
Half basin
11", 23" or 35" stainless spillway
EasyPro mag drive pump
PVC flex pipe and fittings
Auto fill valve (not with 11" kit)
Kits available with no light, or White or Blue LED Light.
See the Extended Information tab for a color Vianti Falls Brochure, or see this Vianti Falls Installation Manual PDF for detailed information on what is involved with installing a Vianti Falls Kit.