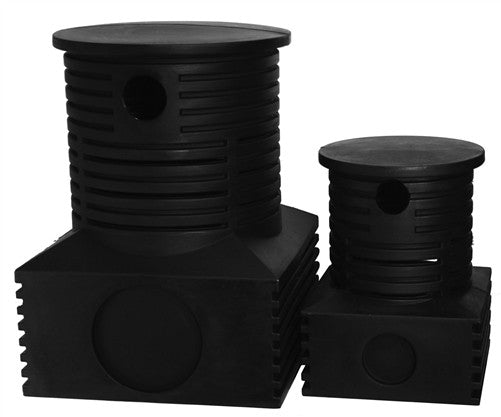 Small Pump Vault
Product Code: JAFM
Regular price $229.99 $206.99 Sale
Photo shows a Small and Large Pump Vault, each sold separately.
Use a Pump Vault for pump housing in a gravel reservoir. Perfect for water features that do not include ponds!
The EasyPro Pump Vaults are built super heavy duty to withstand the pressure of being buried under rock. The vaults have slots cut in the sides, which allows water into the pump.
Small Pump Vault has a maximum flow rate of 7500 GPH (125 GPM). Unit is 16" long x 16" wide x 22" tall and weighs 25 pounds. Use the #JAFM30 Intake Tube (sold separately) to increase maximum flow by 2500 GPH.
See the
Just-A-Falls Installation Instructions PDF
for information on installing a Pump Vault.