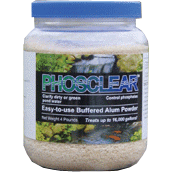 Phosclear Phosphate Remover, 4 lb. Jar
Product Code: BCP4
Regular price $37.50 $32.00 Sale

This is a revolutionary product for Koi Ponds, Water Gardens, Natural Ponds and Lakes. It is designed to clear brown and green water by effectively removing phosphorous and suspended particulate matter from the water column without the hassle or mess of traditional alum treatments. A 40 pound bucket is available for larger pond treatments.
Phosclear is an environmentally safe product that reacts in the water and sinks to the pond bottom where it binds phosphorous into an insoluble form.
Dosage Rates: Koi Ponds & Water Gardens: 1/4 pound (1/2 cup) per 1000 gallons every 3 days until water clears. See label about pH requirements before application.
Pond Calculator Use to calculate the volume or area of your pond.