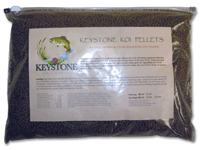 Keystone Koi Pellets, 10 lb bag, 5.5mm (1/4")
Product Code: K10BNSC
Regular price $48.00 Sale

This is the same high quality koi food that we raise our Koi and Goldfish with! It is a complete diet that features the color enhancing supplement spirulina, along with wheat germ and all the necessary vitamins and minerals, making it a terrific all season feed. You won't find a better value in Koi Pellets anywhere!
Keystone Koi Pellets are available in 1/8" and 1/4" sizes. We recommend feeding the 1/4" pellets to Koi over 8" in length and the 1/8" pellets to smaller Koi and Goldfish.
2, 5 & 10 lb sizes come in a handy zipper-lock plastic bag with feeding instructions. 40 lb size comes in a rugged plastic bulk bag without feeding instructions.
Feeding Instructions: Only feed what the fish will eat in less than 5 minutes. If possible, scoop out any uneaten pellets at the end of the feeding period to prevent an accumulation of excess nutrients in the water. Begin feeding these pellets twice a week in the spring when the water temperature goes above 50F. Increase feeding rate to up to once a day when the water reaches 60F, and up to twice a day above 70F. As the water cools in the fall, decrease the feeding schedule accordingly until the water temperature drops below 50F. Discontinue feeding altogether during the cold weather months when Koi become inactive.