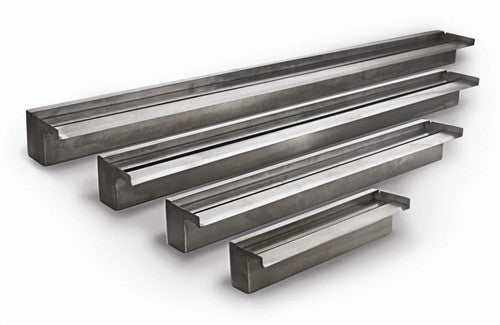 23.5" wide Stainless Steel Spillway, 2" lip
Product Code: SSS23
Regular price $366.79 $311.77 Sale

These durable spillways are made of stainless steel, making them ideal for formal displays that feature sheet flowing waterfalls. 6 sizes available in standard 2" lip or the extended 6" lip. Features include:
Recommended flow rate of ten gallons per minute (600 gph) per foot of width
1" fpt inlet in back wall, dual inlets on 35" & 4" models, and 3 inlets on 59" and 71" models
Designed to be used with LED light strip
2" lip standard or 6" lip available for easy installation behind brick wall
Internal baffle calms incoming water creating even, smooth flow over lip
Ideal for formal features, signs and swimming pool features
Email us at info@keystonehatcheries.com if you would like assistance with designing a waterfall feature or see this Vianti Falls Installation Manual PDF.