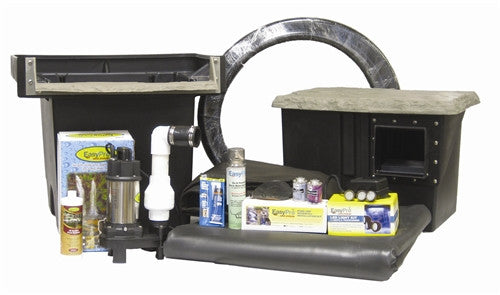 16x21' Medium Pond Kit
Product Code: EM1621FB
Regular price $3,249.89 $2,924.90 Sale
This kit is a step above our Small Pond Kits. It includes a larger filter for increased capacity, as well as a larger check valve and 2" water line for increased flow. Due to the filter size, all medium pond kits ship motor freight. Each kit it includes:
45 mil EPDM Liner
Pond Liner Underlayment
Pond Skimmer with filter brushes
AquaFalls Biofilter/Waterfall Base
High Efficiency Pump
Check Valve Assembly
Black PVC Flex Pipe
Bacteria
Waterfall Installation Kit - includes PVC glue, primer, silicone, liner patch and 1 can of black foam
3 Light Kit with Transformer
See table below for specific information. Pond sizes are based on a 2 foot depth with no extra liner on the edges.
| Item # | Pond Size | Liner Size | Approx. Pond Gal. | Pump Included | Skimmer Included | AquaFalls Included |
| --- | --- | --- | --- | --- | --- | --- |
| EM1621 | 16x21 | 20x25 | 3800 | TH400 | PS1FB | AM |
Enter Pump, Skimmer or AquaFalls # into our search engine for more information on each component.
See this Pond Kit Installation PDF for details on what is involved with installing a pond kit.