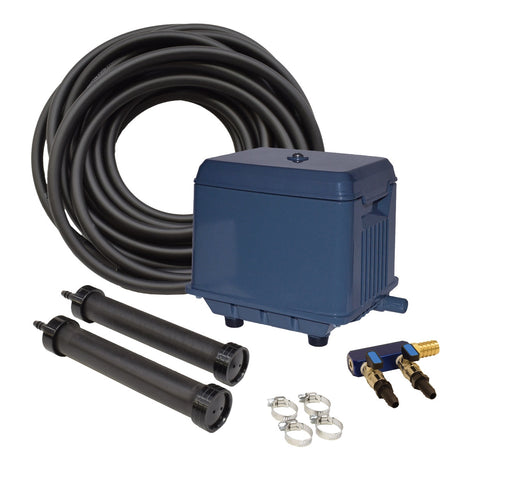 Stratus KLC Aeration Kit - 2000-15,000 gallons - 2 diffuser
Product Code: LA2
Regular price $399.99 $359.99 Sale

Ensure adequate oxygen levels and circulation during hot summer months and de-icing capability during freezing months with the Stratus KLC Linear Aeration Systems. 4 different kits are available with 1 to 4 diffusers for ponds up to 30,000 gallons. These systems feature quiet, energy efficient compressors with  UL listing for outdoor use, and they carry a 3 year warranty!
All kits include a linear diaphragm compressor with 6' power cord, rubber membrane diffuser(s), connectors, weighted airline, and installation and maintenance instructions.
Item #
Pond Size (Gallons)*

Number of 8" Diffusers

Length of Tubing Included
Air Flow (CFM)**
Max Depth
Watts

Est.***

Montly

Cost of Operation

LA1
1K-7.5K
One
25 feet
1.3
6 feet
23
$1.51
LA2
2K-15K
Two
50 feet
2.1
6 feet
36
$2.37
LA3
3K-22.5K
Three
75 feet
3.1
6 feet
60
$3.94
LA4
4K-30K
Four
100 feet
3.7
6 feet
70
$4.60
* Size pond that these systems will aerate depends on depth, fish load, filtration capacity and if it is for winter or summer aeration. Contact Keystone Hatcheries for sizing recommendations.
**Airflow rates given are max flow. Rate will decrease with depth.
***Based on 24/7 operation at $.09 per kWh. Actual cost will vary with operating conditions and local electrical rates