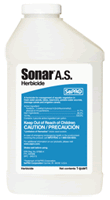 Sonar Herbicide, 1 quart
Product Code: SOQ
Regular price $1,049.00 Sale

This herbicide selectively controls many aquatic weeds. Apply early in the season before, or just as plants emerge. Just one treatment may last for multiple seasons with Eurasian Water Milfoil. Very effective against Duckweed if applied at high end of application rates. No restrictions against fishing or swimming. Check label for other water restrictions and application information.
Dosage Rates: Rates vary from about 1 to 10 ounces per acre foot of water. See the Sonar AS Label instructions for details.
Shipping Restrictions: This product cannot be shipped to the following states: AK, CA, CT, ID, HI, ME, MA, NH, NJ, NY, RI, VT & WA
Pond Calculator Use to calculate the volume or area of your pond.
Product Restrictions Table
Check to see what kind of water use restrictions apply, if any, for this product.