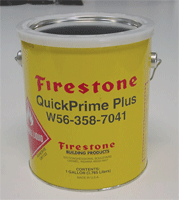 QuickPrime Adhesive, 1 gallon
Product Code: FQP-01
Regular price $154.00 Sale
This product is an absolute must when joining together 2 pieces of EPDM liner. Use a QuickScrubber tool to apply to liner, let dry to touch and then apply tape. This product dramatically improves bonding of tape to liner.
Shipping Restrictions: This product can only be shipped via UPS Ground hazardous
Info on seaming liners: When seaming two EPDM liners together in a non-stream application, overlap clean liners, fold back to expose meeting surfaces and apply QuickPrime Adhesive with the QuickScrubber Tool wherever the liners will touch. When dry to the touch apply 2 sided tape to bottom liner and carefully fold top liner onto tape. Then roll top liner thoroughly with a seam roller to contact all surfaces and remove any air bubbles. Reapply QuickPrime over joint where liners meet. When dry to the touch, apply cover tape over joint and roll again with seam roller. When joining liners in a stream situation, we recommend only using the two sided tape instead of both to create a smooth shingle effect for water flow.